Voyage en Floride (Février 2019) - A trip to Florida (February 2019)
Nous venons de passer un dizaine de jours en Floride et vous trouverez dans cet article une brève description des étapes de notre voyage.
We just spent ten days in Florida and in this post, you will find a short description of our trip.
Notre objectif principal était de profiter de la saison sèche pour découvrir les paysages et la faune de la Floride. Nous avons aussi dédié deux jours aux faunes disparues (fossiles)...
Our main objective was to take advantage of the dry season to discover the landscapes and the fauna of this state that we had never visited. We also dedicated two days to look for fossils.
Première partie - Le parc national des Everglades et les îles des Florida Keys
(First part - The Everglades National Park and the Florida Keys)
Pour la première partie de notre voyage nous voulions passer un peu de temps à explorer le parc national des Everglades (première priorité) et les îles des Florida Keys (seconde priorité). Nous avons donc choisi de rester trois nuits à un hôtel dans la ville de Florida City au sud de Miami.
For the first leg of our trip we wanted to spend some time exploring the Everglades National Park (first priority) and the Florida keys (second priority). Therefore, we decided to spend three nights in an hotel in Florida City, south of Miami.
Jour / Day 0 - Arrivée à Miami et installation à l'hôtel / Arrival in Miami and settling at the hotel.
Jour / Day 1 - Le sud des Everglades (entrée par le centre d'accueil Ernest F. Coe sur la route 9336). South Everglades (access by the Ernest F. Coe visitor center on route 9336)

Royal palm - chemins / trails: Anhinga (+++), Gumbo Limbo (-).
Quelques arrêts le long de la route / a few stops along the way.
Flamingo - marina (+); chemins / trails: Guy Bradley (-), Eco Pond (+++).

Jour / Day 2: Les îles des Keys (partez tôt si vous vous ne voulez pas être trop pris dans les embouteillages...) / The Florida keys (start early if you want to avoid traffic jams...).

Bahia Honda state park (+) - Une large fraction de ce parc est fermée suite à des dégats lors d'un des derniers ouragans et il est du coup très limité. A large part of this state park is closed due to damage during a past hurricane and it feels very restriced and small.
Key West (--) - Nous n'avons pas aimé. La ville encombrée de touristes comme nous et pas si jolie que cela ne nous a pas paru justifier la longue route et les embouteillages du retour. We did not like this small city full of tourists like us and not that nice. We felt it was not really worth all the driving and the traffic jams on our way back...

Jour / Day 3: Le nord des Everglades, en route vers Everglades city par la route 41 / North Everglades by route 41 on our way to Everglades city.

Shark Valley (+++) - Nous sommes arrivés à l'ouverture à 8h30 et nous avons loué des vélos à 9h pour faire les 24 kilomètres de ce parcours. Tout aurait été parfait sans le vent de face et la pluie torentielle du retour... Mais cela fait de bon souvenirs. / We arrived right at the opening at 8:30AM and rented bikes at 9AM to cover the 16 miles of this trail. Everything would have been perfect if it was for the strong front wind and the pouring rain we met on our way back... Good memories!
Centre d'accueil / visitor center Oasis (++) - Un bon endroit pour obtenir des informations. / A nice place to get information on what tot do next.
Route / road H.P. Williams (-+) - Une route non goudronnée longeant des zones d'eau et le long de laquelle nous étions censés observer beaucoup d'alligators. Il ne faisait pas très chaud alors il n'étaient pas hors de l'eau et nous n'en avons pas vu beaucoup malheureusement. / An unpaved road along which we were told we would see a lot of alligators. Unfortunately, the temperature was not very high and the alligators stayed hidden in the warmer water...
Seconde partie - Les environs d'Everglades City et de l'île de Marco
(Second part - The area around Everglades City and Marco island)
Pour le second tronçon de notre voyage, nous avons passé deux nuits dans la petite ville d'Everglades City qui semble vivre essentiellement des touristes venus comme nous pour faire un tour de canoë ou de bateau.
For the second leg of our trip we spent two nights in Everglades City. This small and slightly remote city seems to live mainly on tourists there for a boat or canoe tour.
Jour / Day 4 - Tours en canoë et en bateau / canoe and motor-boat tours (+++).

Une très bonne journée, en canoë avec un guide et dans la mangrove le matin et à bord d'un bateau à moteur dans les mangroves des 10,000 îles l'après-midi. Cher mais vraiment bien. / A very nice day, canoe with a guide in the morning followed by a motor-boat tour in the mangroves of the ten thousand islands in the afternoon. Expensive but worth it.

Jour / Day 5 - Parc de Fakahatchee et île de Marco sur le route de Venice / Fakahatchee Strand Reserve State park and Marco island, on our way to Venice.

Fakahatchee State park (-+) - Nous avons commencé par le parc lui-même (le long de la route 29) tôt le matin et nous l'avons trouvé sans intêret. Nous recommendons plutôt d'aller directement à Big Cypress Bend le long de la route 41. / We started by the state park in the monring (along route 29) and were quite disappointed. We recommend to go directly to the Big Cypress Bend boardwalk on route 41 instead.
Marco island (+++) - Nous sommes allés à la plage de Tigertail (il s'agit d'un parc) et nous y avons passé un super après-midi à chercher des coquillages sur la plage de sable blanc. Très très sympa, attention aux coups de soleil... / We went to the Tigertail beach on the island and spent a very nice afternoon looking for shells on the white sand beach. Great stop, beware of the sun...
Troisième partie - Fossiles, fossiles... Les environs de Venice
(Third part - Fossils, fossils... Venice area)
Pour ce troisième tronçon dédié à la recherche de fossiles, nous avons passé deux nuits à proximité de la ville de Venice.
For the third leg of our tip dedicated to fossil hunting, we spent two nights close to the city of Venice.
Jour / Day 6 - Recherche de fossiles avec un guide vers Arcadia / Guided fossil hunt close to Arcadia (+++).

Le niveau d'eau dans la rivière Peace étant trop haut, notre guide nous a emmené sur un autre site, privé celui-ci. Quelques trouvailles sympa sur un site très agréable et en bonne companie. / The water levels were to high to go on the Peace river so our guide led us to another site on private land. A few nice finds and a very good day!

Jour / Day 7 - La plage de Caspersen à Venice / Caspersen beach in Venice (+++).

Nous sommes arrivés sur la plage à l'aube et nous étions loin d'être les premiers! Les chercheurs de fossiles se lévent tôt! Rien de très gros mais une très bonne récolte de fossiles, de coquillages, et de coups de soleil! / We arrived at the beach at dawn but we were not the first fossil hunters! We did not find any large pieces but the harvest of fossils and shells was good.
Quatrième partie - Saint Petersburg et l'île de Sanibel
(Fourth part - St Petersburg and Sanibel island)
Pour ce quatrième tronçon, nous avons passé deux nuits à proximité de l'île de Sanibel. Si votre hôtel est situé hors de l'île de Sanibel comme c'était notre cas, pensez à vous mettre en route tôt pour éviter d'énormes bouchons...
For this fourth leg of our trip, we spent two nights close to the Sanibel island. If you select an hotel outside Sanibel island like we did, be prepared to start early to avoid big traffic jams on the roads to and in Sanibel...
Jour / Day 8 - Saint Petersburg

Musée Dali / Dali museum (+++) - Musée très intéressant et éducatif qui nous a fait découvrir des aspects de l'oeuvre de Dali que nous ne connaissions pas du tout. / Very interesting and educative museum. We discovered elements of the work of Dali that we did not know at all.
Collection Chihuly / Chihuly collection (++) - Un peu cher mais une très belle collection d'oeuvres en verre de Dale Chihuly . / A little bit on the expensive side, but a very nice collection glass art pieces by Dale Chihuly.

Jour / Day 9 - Ile de Sanibel / Sanibel Island.

Plage de Bowmans sur l'île de Sanibel / Bowmans beach on Sanibel island (+++) - Comme pour les fossiles, il est difficile d'arriver les premiers pour récolter les coquillages... Malgré cela, nous avons passé un très bon moment sur cette plage et fait une bonne récolte. / Like for the fossils, it is impossible to be the first ones to collect shells on this beach... Anyway, we had very good time and came back with nice shells.
Parc de J.N. Ding Darling / J.N. Ding Darling National Wildlife Refuge (++) - Ce n'était pas comparable avec les Everglades mais les points d'observations des oiseaux étaient sympathiques. / This was not as good as the Everglades but the the lookouts for the birds were nice.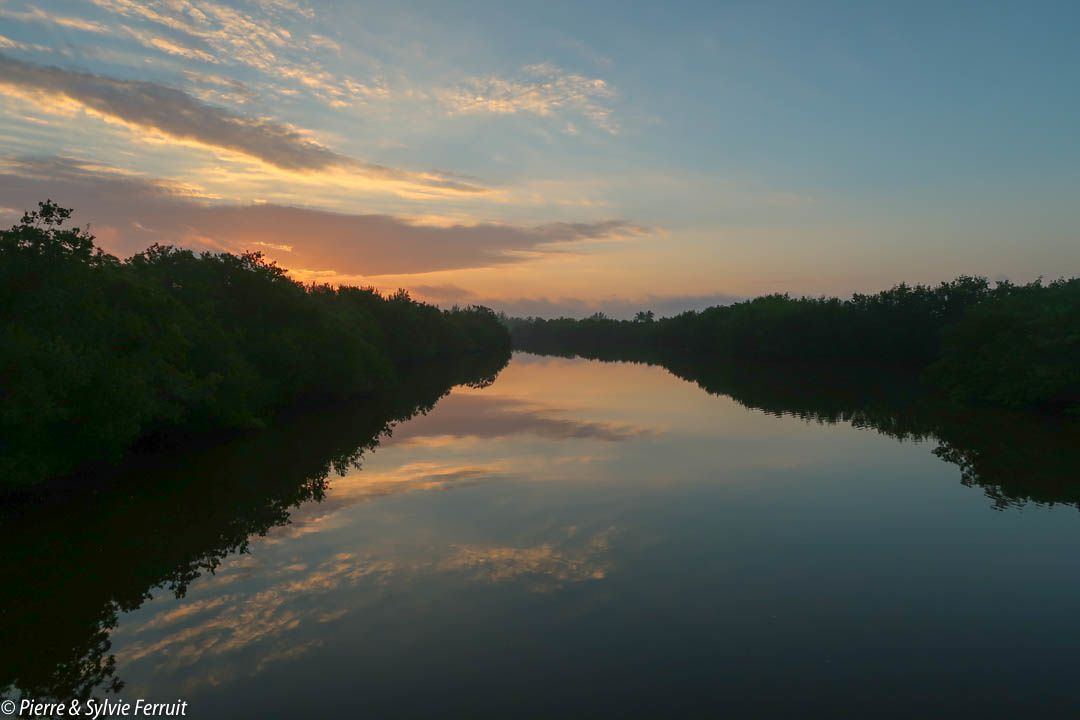 Le lever du soleil sur le chemin d'accès à la page de Bowmans sur l'île de Sanibel - Sunrise on the trail to access Bowmans beach on Sanibel Island.
Cinquième partie - de retour à Miami
(Fifth part - Back to Miami)
Nous avons fini notre séjour en Florida avec un nuit à Miami et quelques heures à Miami beach. Nous étions sur le départ et nous n'avons pas vraiment cherché à découvrir Miami.
We finished our trip in Florida with on night in Miami and a few hours on Miami beach. We were gearing up to leave and did not really try to discover Miami.